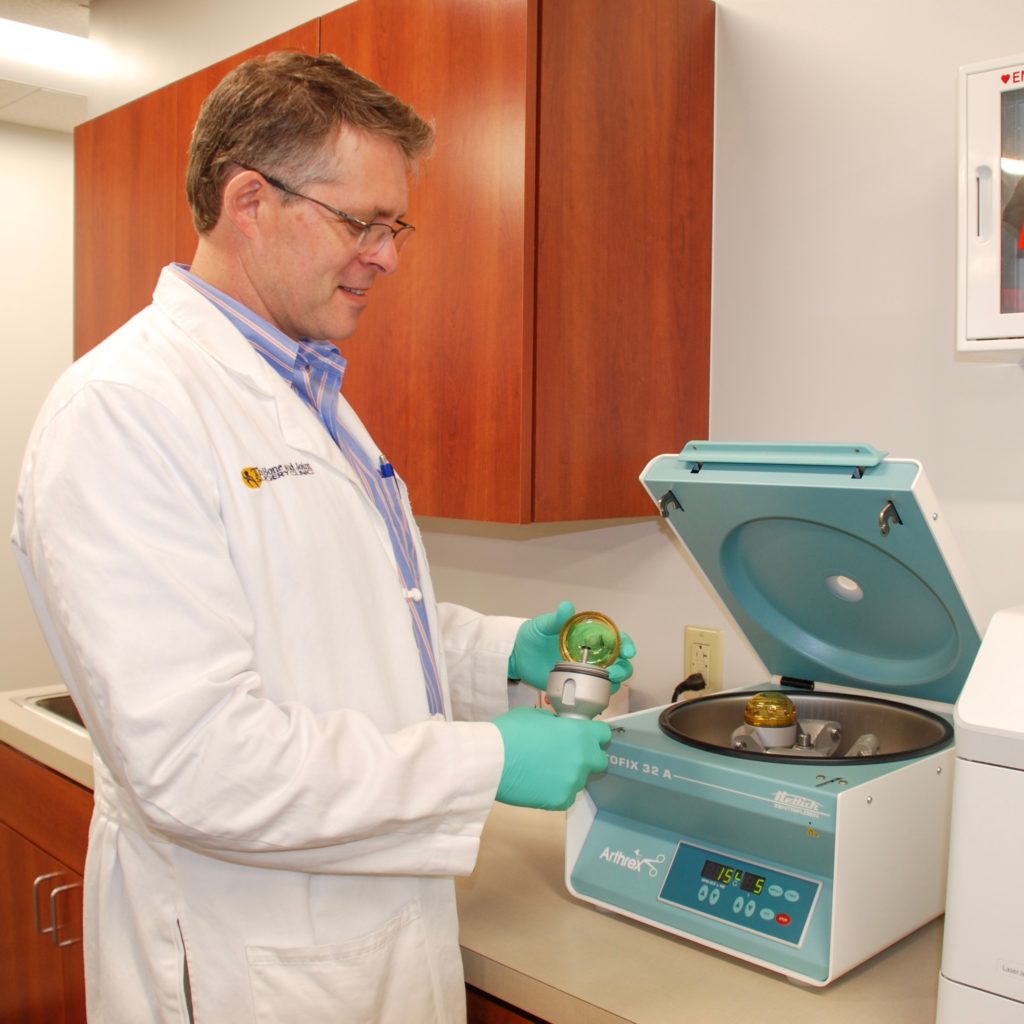 For the convenience of our patients, The Bone and Joint Surgery Clinic offers Platelet-Rich Plasma (PRP) therapy at our Raleigh office. PRP therapy is performed when patients suffer from an acute or chronic case of pain in a tendon, muscle and/or ligament.
Why Choose PRP Therapy?
When an injury occurs, platelets and other regenerative blood components collect at the injured site to heal damaged tissues. PRP therapy is an innovative new treatment that allows our Raleigh, NC physicians to create a solution from your platelets and inject it at the site of injury, precisely targeting the most damaged areas. In this way, PRP injections aid your body's healing process, help to reduce pain quickly and speed up recovery time.
How is the PRP Procedure Performed?
After your injury has been evaluated, a Bone and Joint Surgery Clinic physician will create an individualized PRP treatment plan for you. To begin PRP therapy, we'll take a small amount of blood from your arm and process it to separate the platelets and beneficial components from the rest of the blood. Next, a sterile syringe is filled with the concentrated platelet solution, which is then injected into the damaged tissue. One PRP treatment is typically finished in less than 30 minutes.
Are PRP Injections Safe?
With PRP therapy, there is no risk of rejection or disease transmission, since the platelet solution is produced from your own blood. The treatment carries minimal risk of adverse reactions or complications.
What to Expect After a PRP Treatment
You may see improvement in feeling and function as little as two weeks after your PRP injection, depending on the scope of your injury. Our orthopaedic physicians will monitor your progress and determine whether additional PRP treatments are necessary.
To schedule a PRP therapy appointment at The Bone and Joint Surgery Clinic, please call (919) 872-5296 or contact us online.
Serving PRP Therapy Patients From Raleigh, Durham and Beyond
At The Bone and Joint Surgery Clinic, we're proud to provide the highest quality orthopaedic care and diagnostic services to patients from Raleigh, Durham, Cary, Chapel Hill, Carrboro, Garner, Apex, Morrisville, Holly Springs, Fuquay-Varina and the surrounding areas. Schedule an appointment today!