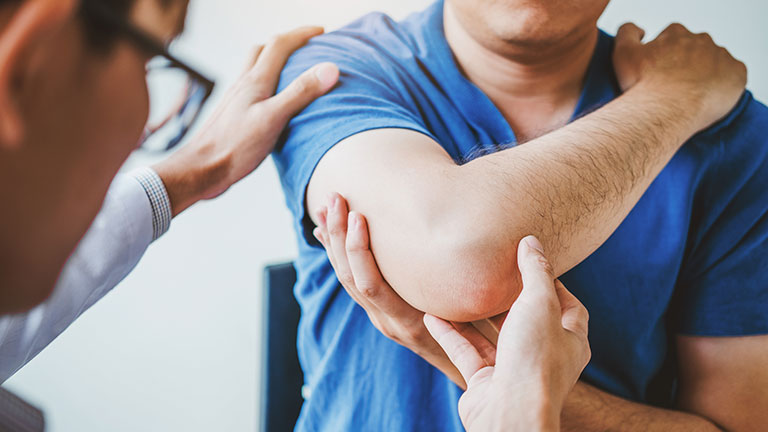 Our Board Certified Orthopaedic Surgeons provide a full range of treatments for injuries of the elbow, hand and wrist extremities. Many of these conditions can be treated with non-surgical approaches such as medications, therapy, splints and injections. When surgery is necessary, our physicians perform advanced orthopaedic procedures in an outpatient center and without a hospital stay.
At The Bone and Joint Surgery Clinic, patients of all ages are always treated by an orthopaedic surgeon. During every visit, you'll receive direct care and attention from one of our Board Certified Surgeons to ensure that your wrist, elbow or hand condition is treated effectively.
Elbow Surgery and Treatment
Overuse injuries are very prevalent in the elbow. People who are active in the gym are especially prone to these conditions. Most conditions of the elbow can be treated non-surgically by our physicians.
Our Physicians Treat the Following Elbow Conditions:
Biceps tendonitis and tears
Bursitis
Osteoarthritis
Surgical treatment of olecranon fractures
Tendonitis and tendon tears
Ulnar nerve / cubital tunnel syndrome
Hand and Wrist Surgery and Treatment
When a problem takes place in the hand, care must be given to all the different types of tissues that make function of the hand possible. Overuse and repetitive motion injuries are very common in the hand and wrist. Sports-related injuries are also prevalent. If the patient needs surgery, then most of these conditions can be treated on an outpatient basis by our hand and wrist surgeons.
Our Physicians Treat the Following Hand and Wrist Conditions:
Schedule Your Appointment Today!
At The Bone and Joint Surgery Clinic, we're proud to provide the highest quality orthopaedic care and diagnostic services to patients from Raleigh, Durham, Cary, Chapel Hill, Carrboro, Garner, Apex, Morrisville, Holly Springs, Fuquay-Varina and the surrounding areas. Schedule an appointment today!