Are you experiencing pain in your hips or knees? The Board Certified Orthopaedic Surgeons at The Bone and Joint Surgery Clinic have years of experience and training in hip and knee conditions, and specialize in the most advanced treatments.
Hip and knee pain are among the most common conditions and injuries in our patients. When surgery is necessary, we use advanced, minimally invasive surgical procedures that can dramatically reduce your recovery time.
At our orthopaedic clinic, patients receive personal care from an orthopaedic surgeon throughout the entire treatment process. During your office visit, you will always be seen by one of our Raleigh surgeons.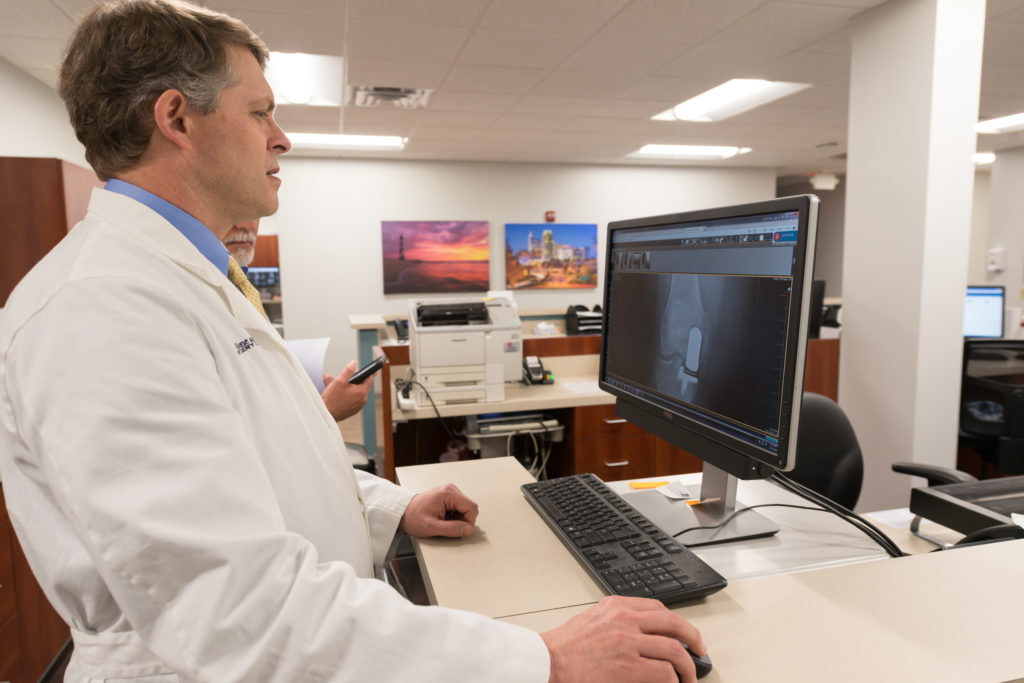 Hip Surgery and Treatment
One of the most common ailments in our patients is hip pain. Hip conditions usually produce pain in the groin and on the outer area of the hip. When hip fracture surgery is needed, most of our patients find that after they are rehabilitated they will regain much, if not all, of the mobility and independence they had before the injury.
We Specialize in Treatments for the Following Hip Injuries and Conditions:
Hip arthritis (all types)
IT band syndrome
Cartilage injuries and tears
Osteoarthritis
Snapping hip
Hamstring and other muscles tears at the hip
Our Surgeon, Dr. David T. Jones, Specializes in Hip Arthroscopy and Direct Anterior Hip Replacement
Dr. Jones is one of a few doctors in the Triangle who performs Hip Arthroscopy which requires specialized training and years of experience. This minimally invasive hip procedure does not involve a large incision which allows the patient to go home the same day as their surgery and in most cases return to their pre-injury activities, including high-level athletics.
Dr. Jones also is one of the few surgeons in the area experienced with the Direct Anterior Approach to total/partial hip replacement allowing faster recovery and even same day surgery.
Knee Surgery and Treatment
Most knee conditions can be treated non-surgically. Patients who do need surgery can usually be treated with arthroscopy, which is minimally invasive and has a faster recovery rate than other types of surgery. During your consultation with one of our knee surgeons, we will discuss your treatment options.
We Specialize in the Following Knee Treatments and Surgical Procedures:
Arthroscopic surgery of the knee, ACL reconstruction with patella tendon autograft (your own tissue) and allograft (cadaver)
Arthroscopic treatment of meniscus tears and cartilage / ligament injuries
Arthroscopic treatment of patella tendon disorders and dislocations
Arthroscopic treatment of OCD (osteochondritis dissecans)
Patella and quadriceps tendon repair
Partial knee replacement
Total knee replacement
Minimally invasive knee replacement
Fractured patella repair
Live cartilage cell transplant
Arthroscopic Baker's cyst treatment
Joint preservation procedures
Rapid recovery techniques
Signature customized knee replacement with MRI mapping
Signature custom partial knee replacements with MRI mapping
Schedule Your Appointment Today!
At The Bone and Joint Surgery Clinic, we're proud to provide the highest quality orthopaedic care and diagnostic services to patients from Raleigh, Durham, Cary, Chapel Hill, Carrboro, Garner, Apex, Morrisville, Holly Springs, Fuquay-Varina and the surrounding areas. Schedule an appointment today!