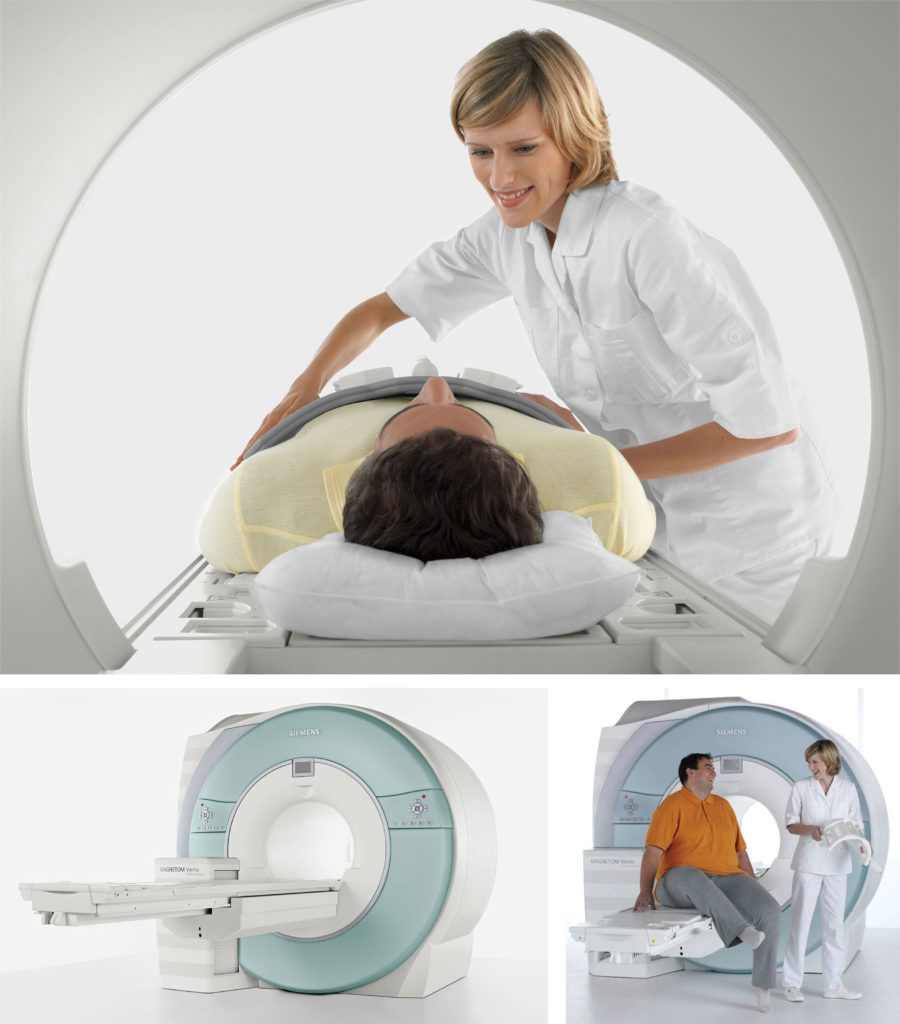 Experience Wake County's first and only Open Bore MAGNETOM Verio 3T MRI
Comfort: A more relaxing experience
An extra-large opening means it can comfortably accommodate patients of different shapes and sizes and can help reduce anxiety and claustrophobia.
Speed: A quicker exam
Exclusive Tim™ (Total imaging matrix) technology helps make exams faster.
Confidence: Detailed images for your doctor
The powerful magnet provides extraordinary images so your doctor can have greater diagnostic confidence.
Our Open Bore MRI
At The Bone and Joint Surgery Clinic, we are committed to providing you with the most convenient, cost-effective, and highest quality MRI scans possible. Our patients enjoy access to MRI services from the convenience of our orthopaedic clinic. Located inside our Raleigh office, you'll find a state-of-the-art Open Bore 3T MRI.
Magnetic Resonance Imaging (MRI) is a non-invasive procedure that creates images with a magnetic field instead of x-rays.  An MRI scan is ordered when the physician suspects a soft tissue injury that cannot be seen on x-rays or CT scans.  A radiologist and our orthopaedic surgeon will read your MRI report and will use the MRI scan to determine the full extent of your injury. Results of the scan are usually available within a day. Once your results are ready, you'll be able to view your MRI images and discuss your next steps of treatment with your physician.
Preparing for a MRI
There is no special preparation for a MRI and no restrictions on your diet. Before your scan, you should remove all metal jewelry, etc. and wear comfortable clothing if possible.
How do I Schedule MRI at The Bone and Joint Surgery Clinic?
To set up your MRI appointment or for more information about our MRI services, please call (919) 872-5296. Depending upon your insurance provider, you may need to see one of our physicians prior to your MRI scan. Our MRI service hours are Monday through Friday, 8:30 a.m. to 5:00 p.m.
How to Request Copies of Your MRI Film
To request a copy of your MRI film, please contact our office at (919) 872-5296. We will arrange for you to pick up a copy of your images at our Raleigh office.
Schedule Your MRI Appointment Today!
At The Bone and Joint Surgery Clinic, we're proud to provide the highest quality orthopaedic care and diagnostic services to patients from Raleigh, Durham, Cary, Chapel Hill, Carrboro, Garner, Apex, Morrisville, Holly Springs, Fuquay-Varina and the surrounding areas. Schedule an appointment today!